eBay Sales Calculator
Rapid & Accurate Sales Analysis for eBay Sellers
The eBay Sales Calculator accurately determines monthly unit sales and revenues for your specified item on eBay marketplaces in seven countries—all in a matter of seconds. It is part of Algopix's Product Sales Performance report.
With this information, you can determine whether your eBay product is in high demand and start selling on different eBay locales. Other selling insights, such as the number of sellers, average price and price range, allow you to assess your product in greater detail. If you want to dig a little deeper, you can analyze all of the identified listings with a further breakdown of the eBay sales history.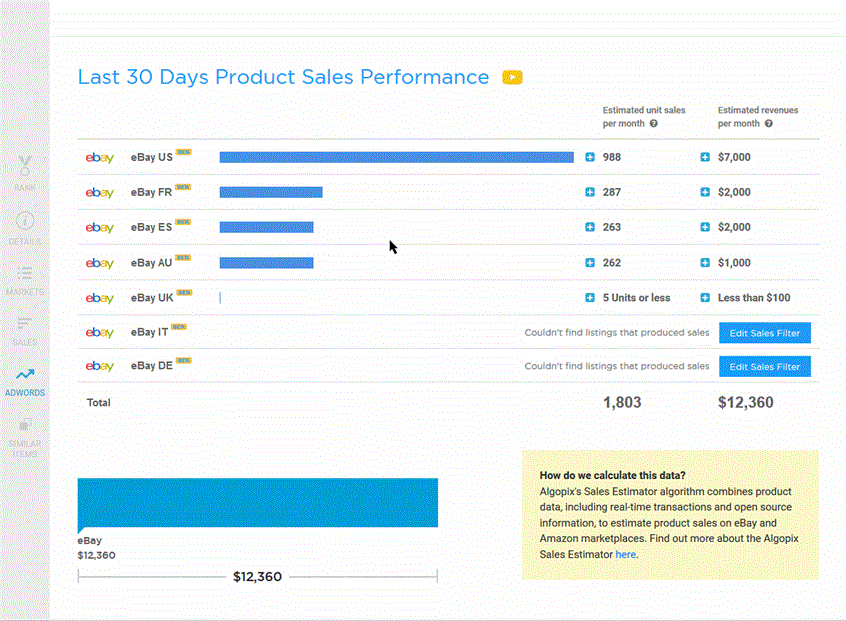 Why Manual Methods of Sales Estimation Are Inaccurate
Accurately calculating how many times a product sold on eBay and what was its turnover is a complicated and time-intensive task. To obtain at least halfway usable results, you would need to repeatedly and tediously look through all of the product listings and note the offered price. For each one, you could further analyze the number and quality of ratings and look at past completed listings. If anything, this might leave you with an educated guess for monthly sales and revenues.
But let's be honest, this is neither a practical nor accurate way to arrive at some acceptable number, especially if researching more than one product. This is where Algopix's eBay Sales Calculator comes in: It is the perfect tool for quickly assessing your product's sales performance on eBay while providing accurate results.
What Insights Does Algopix's eBay Sales Calculator Tool Provide?
First and foremost, the report shows the eBay sales performance of a product. This information includes a calculation of monthly unit sales and monthly revenues, based on the eBay sales history. By clicking on the plus sign, you receive information about the number of sellers for this product. This data is a good indicator of both the level of competition and demand. The price range, as well as the average price the product sells for, can be used as a basis to determine the selling price of your product.
In case no listings were found or you feel like irrelevant listings were included, you can adjust the filter to change which listings to include in the calculation. We recommend looking for listings that were found using unique identifiers or using keywords that were filtered by the Algopix algorithm. But if you find this search too narrow, you can select all keywords to expand your search.
The comprehensive Sales Breakdown shows additional details of all listings that produced sales to complement your eBay sales analysis. These include the product image, title, category, the date of the listing and how the listing was identified by Algopix. To assess the competition for this product, you can find the name of the seller, and the feedback score received on eBay. Further information about every listing is provided in the form of the average selling price, the number of items sold and the Gross Merchandise Volume (GMV). You can also view the actual listing on eBay with one click.
A valuable feature of the Sales Breakdown is the option to customize the search results. You can apply a filter to the results for the selling format on eBay and eBay's product categories. All the results can also be sorted to segment the eBay sales analysis.
How to Use Algopix's eBay Sales Calculator
For a detailed explanation, take a look at this Explanation Video, or follow the step-by-step guide with screenshots provided below.
Step 1)
Navigate to the Single Product Analysis.
Enter the product identifier and purchase price.
Choose your desired eBay markets and any additional marketplaces you want to analyze.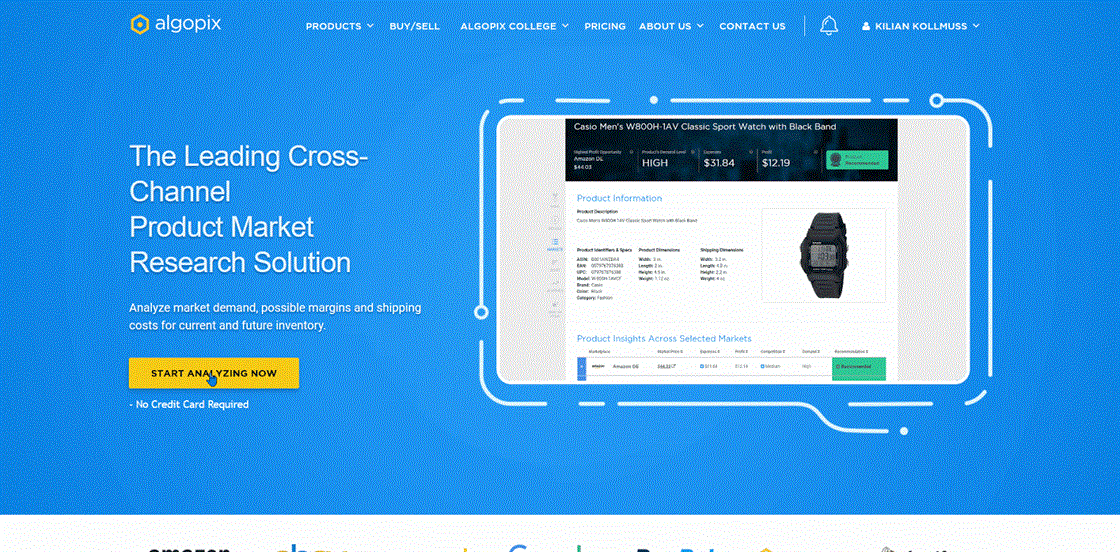 Step 2)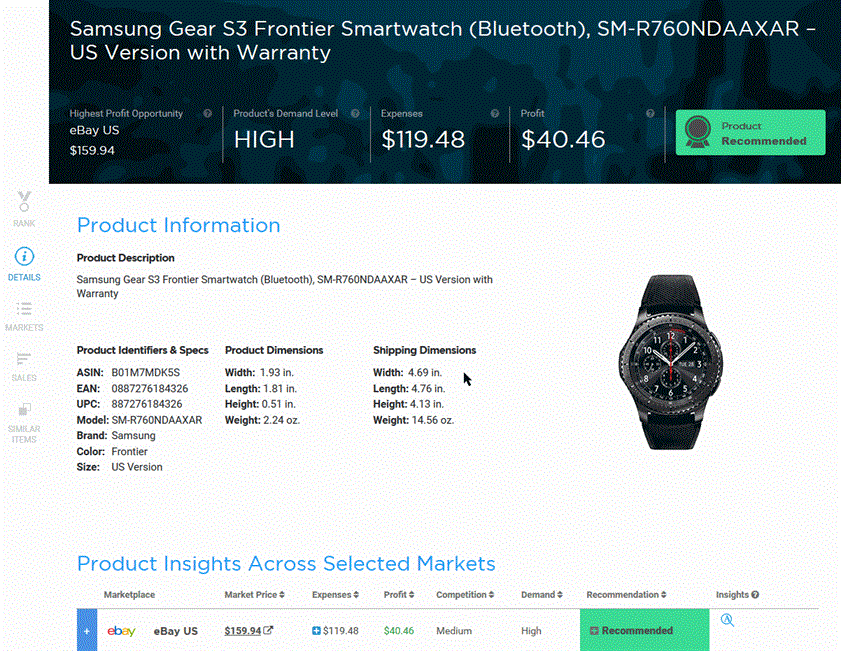 Step 3)
Click on "View Sales Breakdown" for details on the identified eBay listings.
Adjust the filter according to personal preference.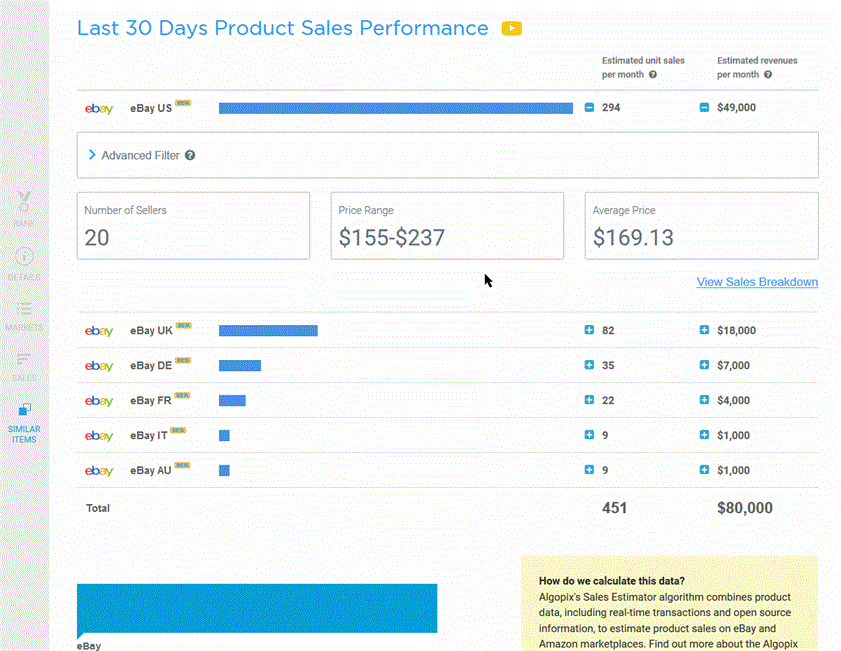 How Algopix's eBay Sales Calculator Works
The Algopix eBay Sales Calculator is an extension of Algopix's unique algorithm, which produces product market research for sellers, manufacturers and brands by tracking hundreds of millions of products across eBay, Amazon and Walmart marketplaces.
By integrating numerous data points from various data providers, including real-time transactional data, Algopix is able to cross-reference open-source information with proprietary insights to estimate product sales for eBay. The use of actual transactional data enables us to refine our mathematical models and algorithms continually and to validate estimates with concrete information.