Explore Inventory by Category with Algopix Catalog Management
Today's digital marketplaces are highly dynamic, and product catalogs must adapt to market trends.
It's not unusual if today's best-selling product is forgotten by tomorrow, or if what initially appears to be junk suddenly turns into the next must-have gadget.
To avoid losses and increase sales, successful marketplaces must learn how to quickly identify these trends and add the right products—and their catalogs must reflect that.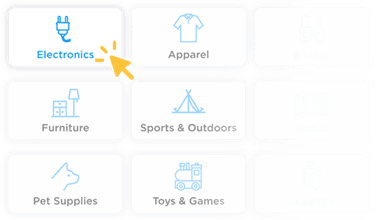 Your digital product catalog should be regularly updated to include new inventory according to market trends and opportunities.
By effectively researching market trends, you can help ensure that your marketplace is adding the right products to your catalog. But accomplishing this is not easy. Staying on top of constantly fluctuating markets and products and regularly adjusting your catalog accordingly can be a 24-hour job.
So how can you create and maintain a catalog featuring products that reflect current market trends?
With Algopix, you can rapidly create your catalog and add new products according to category.
When you enter any category, Algopix's Catalog Research API rapidly generates a comprehensive list of products in real time, including important data such as title and identifiers.
With this essential information, you can easily research these products to determine which would be worthwhile to add to your catalog. Once your catalog is complete, you can quickly and effortlessly list all your products on your eCommerce digital marketplace.
Algopix makes it easy for you to identify the most promising products for your catalog by category. You can:
Generate an organized and optimized catalog by category with just a few clicks/p>

Quickly identify real-time market trends and business opportunities

Research essential brand product data like title and identifiers

Quickly list new products by category on your marketplace

Boost your sales by offering the most updated and promising products