Take a Good Look at

Your Online Competition
---
With Algopix's powerful Store Analysis feature, you can receive essential insights about any online store's most popular products.
Did you ever wish for the ability to peek inside your competitors' eCommerce stores to find out more about their successful products? Here's your chance!

With just one click, Algopix's Store Analysis provides you with a unique view of your competition by identifying best-selling products, how much they cost, their demand level, and the marketplaces where they sell the best. Knowing what works for your competitors can help you plan your own inventory and enable you to grow your eCommerce business.
How Store Analysis Works

Using Store Analysis is easy. Simply enter the URL of the Amazon store of your choice, hit "submit," and Store Analysis will provide you with extensive, real-time product and sales data insights.

You can also receive additional information by analyzing your competitor's products in up to four markets that you choose. The markets may be selected from eight Amazon markets, seven eBay markets and Walmart.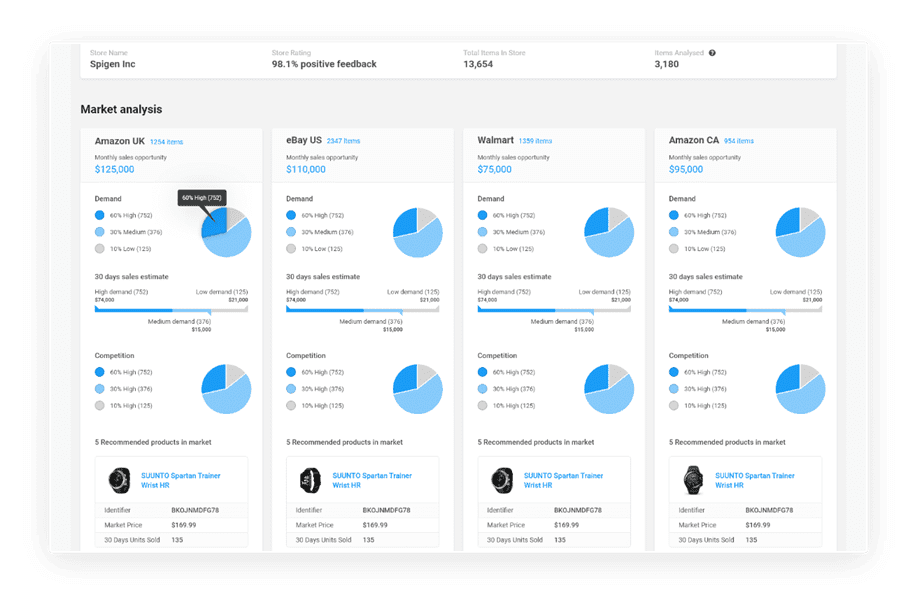 Store Analysis Insights
With Algopix's Store Analysis, you receive easy-to-understand, comprehensive and downloadable insights about your competition, including
Total monthly sales opportunities

Product demand breakdown

Sales volumes history statistics

Sales volume history estimates

Competition levels for products sold

Top 5 recommended products in each market
Sales history estimates by country

Demand analysis by country

Average number of competitors per product

...and more!
Discover What Your Competition Is Up To
Experience the power of Algopix's competitive insights. For a limited time, you can try Algopix's Store Analysis for seven days at no charge.