The eBay feedback score is number in parentheses next to a seller's user ID. eBay feedback scores and eBay rating levels can be immensely impactful on the success of a seller's store. Today so much eCommerce selling is based on reviews and customer service scores, and seller ratings on eBay are no exception.
eBay stars explained
A seller's eBay score is seen through a color-coded star system. Each time a seller receives a positive rating, he gets one more point towards the next color star. eBay feedback scores are calculated as a percentage based on several factors including the following:
Item Description:

Was the item described accurately?

Communication:

How well did the seller communicate with the customer?

Shipping Time:

How fast is the seller's shipping time?

Shipping and Handling Charges:

Were they reasonable?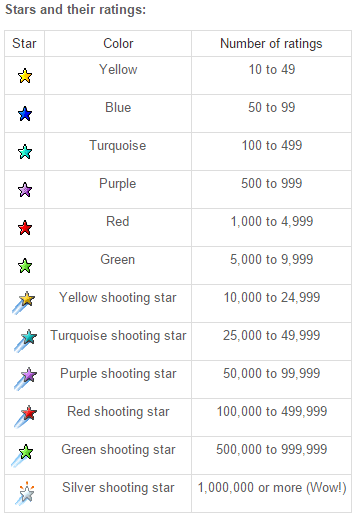 Here are the most effective ways to increase your feedback score:
Customer Service:

Make sure to respond to customer emails no later than 6 hours after you receive them. Consider uploading the tracking information of the product.

Free Shipping:

Currently, most customers expect customer when making online purchases. Many sellers put the shipping cost into the price of their items to increase their sales.
There are two types of sellers:
Top rated sellers:

these are sellers that have a proven track record of providing excellent customer service. The top-rated" status can be achieved regardless of quantity sold, so long as the customer service went above and beyond.

PowerSellers: these are sellers divided into levels which are dependent on the total amount of their sales and on the number of products they have successfully sold. Levels include bronze, silver, gold, platinum, and titanium.
Related Terms