All over the world, eCommerce sellers like you are looking to sell products with high demand and yield great profit margins. It sounds simple—yet it's anything but.
That's where the Algopix Sales Estimator comes in. Within seconds, you can get valuable insights to help you successfully source merchandise that will sell quickly and at the right price.
How can Algopix's Sales Estimator help you out? Read on for the top four ways:

1. It identifies which products are in demand and where they will sell best
Let's say you currently sell mobile accessories on eBay US and Amazon US, but you are open to sourcing promising new products. A supplier recommends the Garmin Fenix 3 GPS Watch at $165 per unit. As a mobile accessories seller, you understandably are not familiar with this category and its market. Nevertheless, you don't want that to stop you from sourcing your next best-selling product.
How do you know if this product is truly in demand?
Simple! In seconds, the Algopix Sales Estimator calculates the number of watches sold and monthly revenue from 15 international marketplaces. Here's how they look: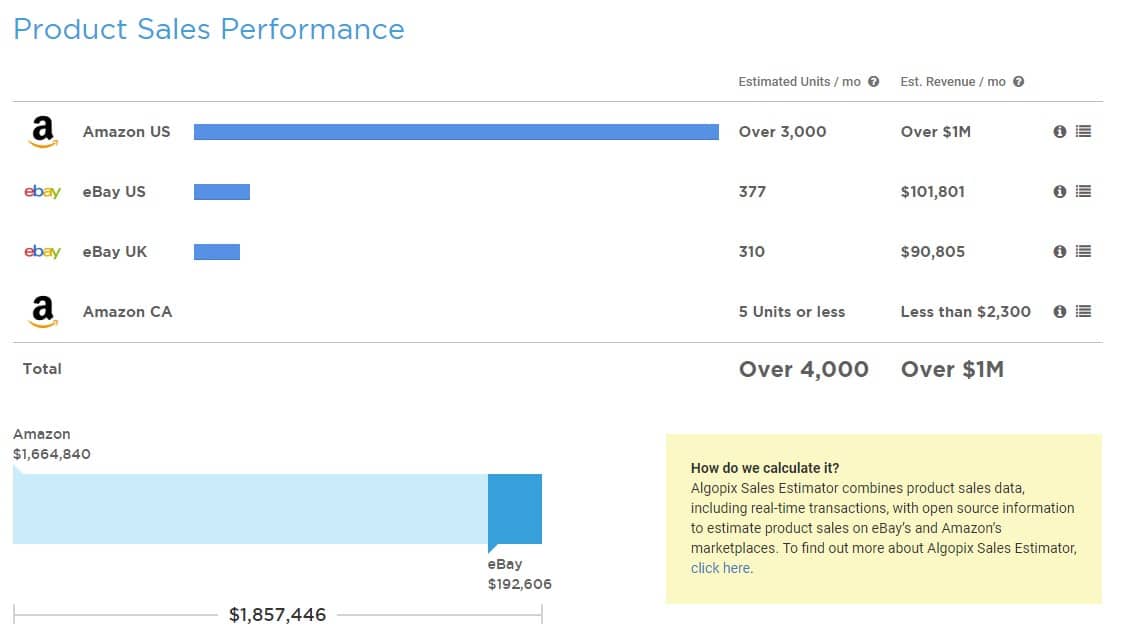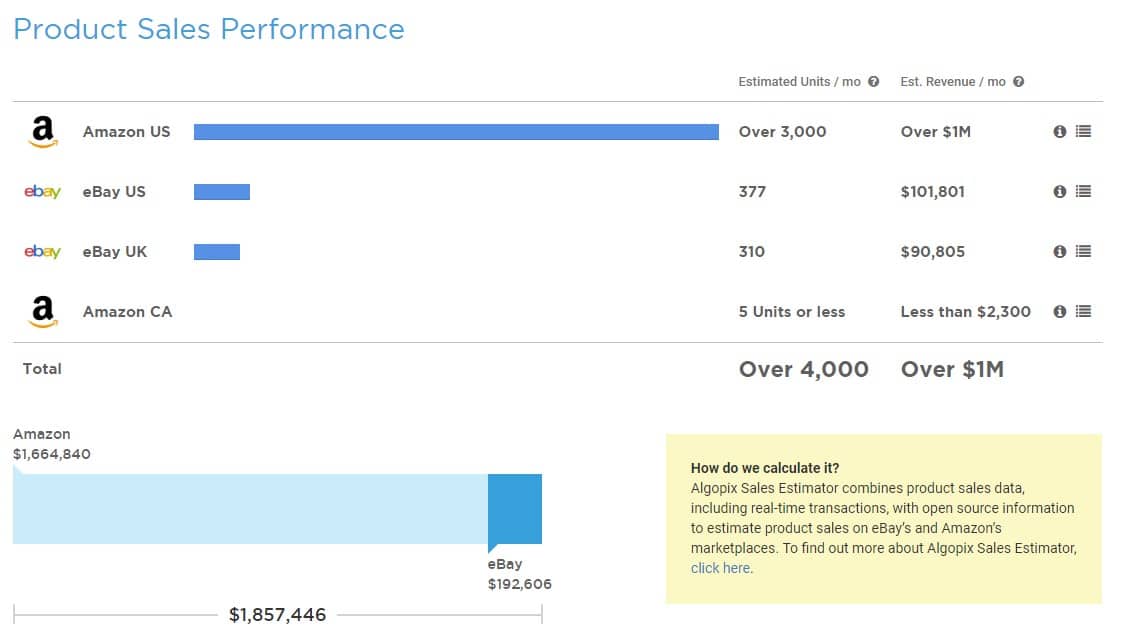 These insights clearly indicate that Amazon US sells significantly more units per month—over 3,000—than eBay US or eBay UK. In fact, the monthly revenue on Amazon US aggregates to over $1 million.
The Algopix Sales Estimator provides the business guidance you need: With significantly more sales on Amazon US and a higher profit margin, you immediately know that selling the Garmin Fenix 3 GPS Watch on Amazon US is a good move.
2. It lets you know if your supplier is ripping you off
Imagine you are at a trade show and a very persistent supplier named Tom tries to sell you an Instant Pot Cooker You know nothing about the appliance, but Tom insists that the product is in great demand and will sell quickly.
How do you know if Tom is telling the truth? And how do you know if the price is fair?
Running a quick check on the Algopix Sales Estimator provides the information you need:


Apparently, Tom was indeed telling the truth. Algopix confirmed that the product is in demand on Amazon US and is yielding high profits.
Algopix can provide even more valuable details about sales performance:


Clearly, Tom wasn't exaggerating at all. More than 20,000 units of the Instant Pot cookers were sold in the past month, earning $1 million.
With the Algopix Sales Estimator, you can consider sourcing new products like these without gambling your limited resources and trying to guess the market size.
3. It helps you reduce deadstock
Picture boxes of hundreds of items sitting in a deserted warehouse collecting dust while you pay pricey storage fees.
That's what happens when you have deadstock, meaning that your merchandise is never sold to customers. Typically sellers must deal with deadstock when products are not priced competitively or have little demand. As a result, you wind up losing a substantial sum of money.
Deadstock is unfortunately a common problem for eCommerce sellers—but it is precisely the situation you want to avoid.
The industry standard for deadstock is around 20%, but just imagine what it would look like for your business to decrease your deadstock by 50%. This means that if you bought a box of 500 watches for $165 per unit, 20% deadstock would mean $16,500 loss in total revenue. Cutting that down to 10% deadstock would mean a loss of just $8,250.
Using the Algopix Sales Estimator can help you identify products that are in demand and provide guidance about how best to price them. The result? Less deadstock for you, and more revenue as a result.
4. It gives you peace of mind
It's true. Knowing that you are investing in the right products to sell can help you breathe easier, and can free up your time to focus on other parts of your eCommerce business.
With the Algopix Sales Estimator, you know that you are making the right business decisions about scouting new products, determining where to sell them and paying the right prices to your suppliers. Your business will do better—and so will you.
Interested in learning more about how the Algopix Sales Estimator can help you grow your online business? Read about it here.