1 Answers
Amazon is undeniably the biggest and most influential online marketplace available in the eCommerce arena. The data it offers, from sales figures to changing prices, can help new sellers immensely in making informed business decisions. However, the vast amount of intel can be difficult for most people to find and parse.
That's why Algopix has built an online
market research tool
to
extract
all the relevant facts your business can benefit from. Let's say hypothetically you're thinking of selling the Samsung Galaxy Note 9, an excellent phone with great selling potential. Your supplier can provide you with several units for $680 each.
Now you have to ask:
How much will I have to pay in shipping costs, taxes, and marketplace fees?

Will enough people want to buy it?

What price will result in the maximum profit for me?

What other sellers are also selling the Note 9?
Algopix can answer all these questions and provide you an informed recommendation for which marketplaces it would be best for you to sell the phone in, if at all. First, enter in the product identifier, the price you buy it at, the condition (new, used, or refurbished), your preferred fulfillment method, where you're shipping from, and what markets you're interested in.
Another major advantage of using Algopix is that Algopix provides sales data from 16 international Amazon, eBay, and Walmart marketplaces in the US, Canada, UK, Australia, Italy, Spain, France, and Germany. This feature allows sellers to get the information they need to expand their business internationally and on different channels - all in one place.
There's also a Google Adwords Analysis available for checking recommended search terms, cost per click and other related statistics for SEO keywords.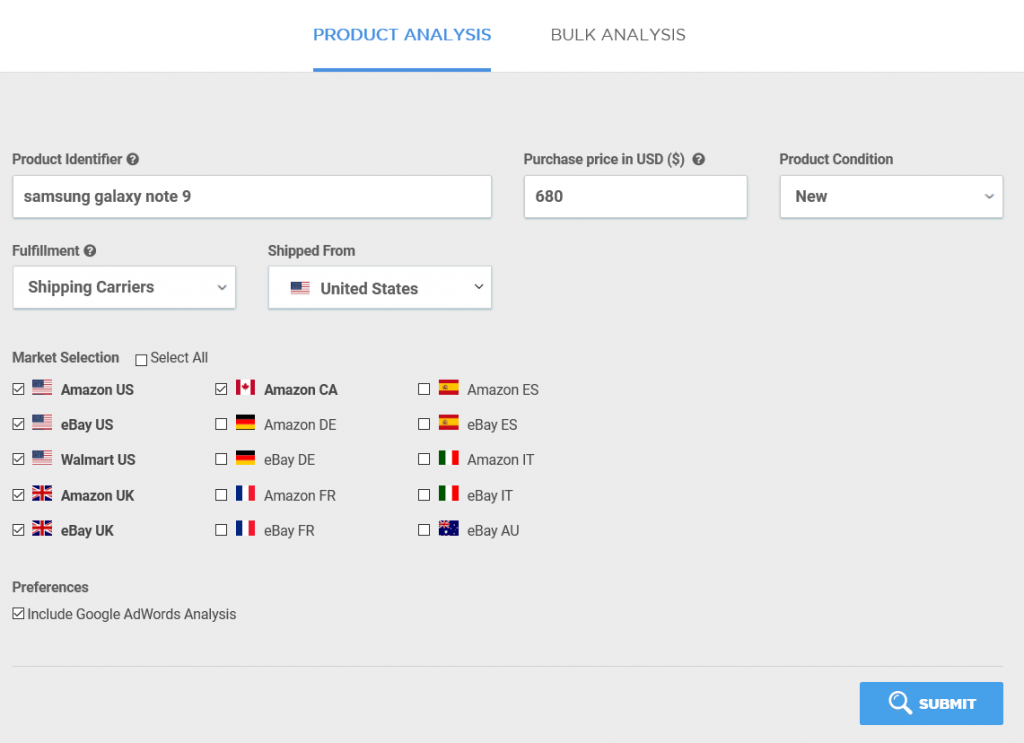 Your results will include a full profile of the product with pictures, full name, and specifications to ensure you have the right item.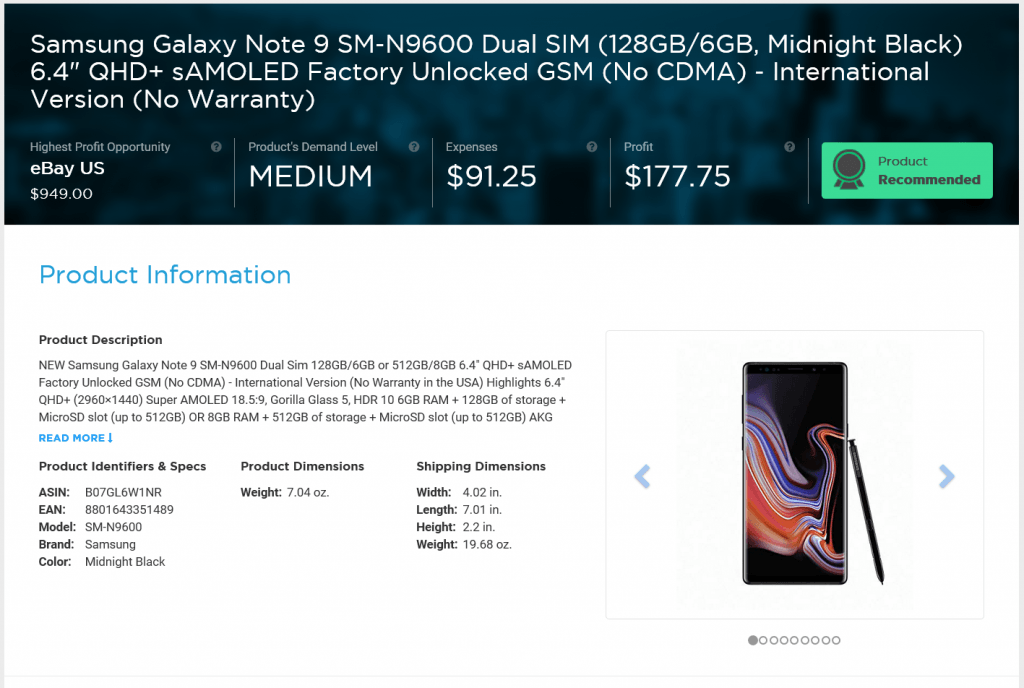 The Product Insights section is where you want to look first. For each marketplace, the market price for the Note 9, the expenses you need to pay to sell there, your projected profit margins, the seller competition, and consumer demand are all conveniently shown in this section.

Let's take a closer look at these stats. Algopix breaks down the seller expenses required to complete a sale of the Note 9 in each marketplace. In the example shown, the Note 9 we bought for $680 can sell for $855 on Amazon in the US. We can expect to spend $6.49 on shipping and $68.40 on marketplace fees.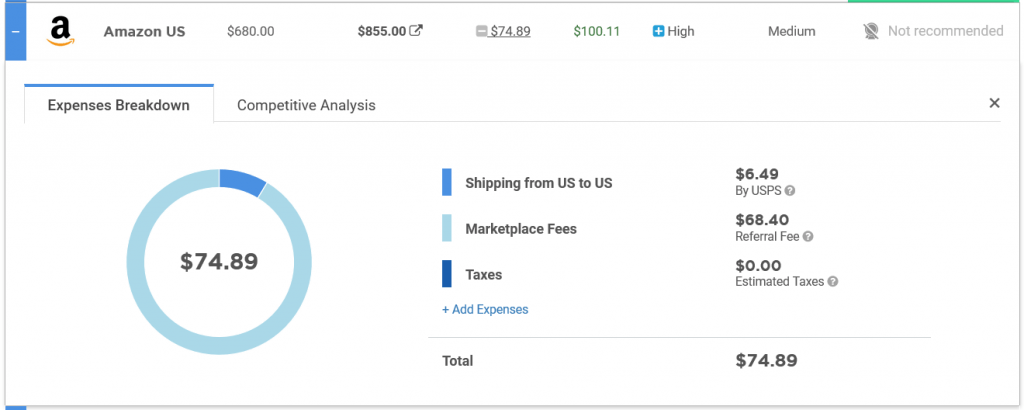 Algopix also offers some insight into who you will be competing with. Currently, 8 other sellers are selling the Note 9 with FBA (fulfillment by Amazon). They seem highly rated too, so seller competition is indeed "high." Even with medium consumer demand, taking on this marketplace isn't recommended, as indicated by Algopix in the rightmost column.
Thankfully, Algopix does seem to recommend selling our Note 9 on eBay, in the US market. With a large profit margin of $177.75, relatively few sellers to compete against, and a decent amount of demand, we can safely enter the market for Note 9s here.

But we can still keep digging! Full stats on sales performance, including estimated sales figures and revenue per month for each marketplace, are offered as well.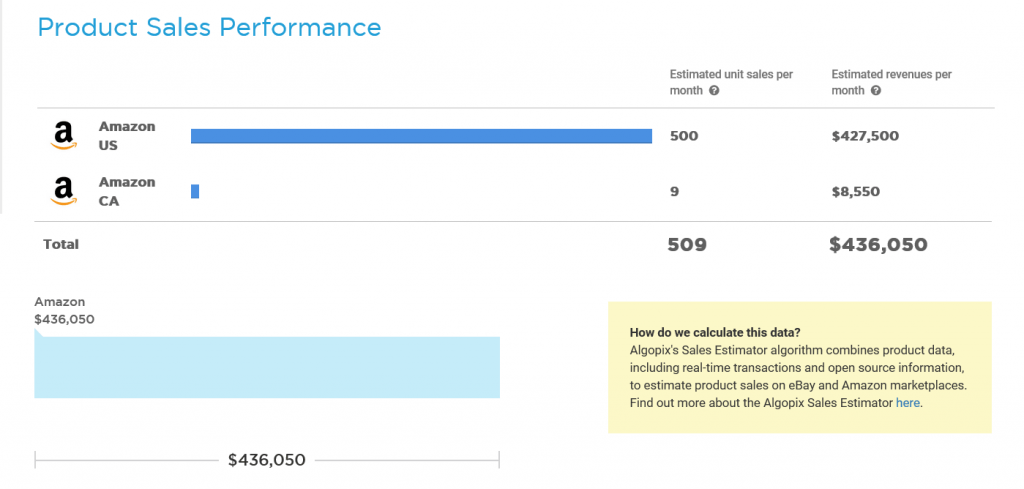 Not only that, Algopix tells you how popular the Note 9 is on search engines for various countries.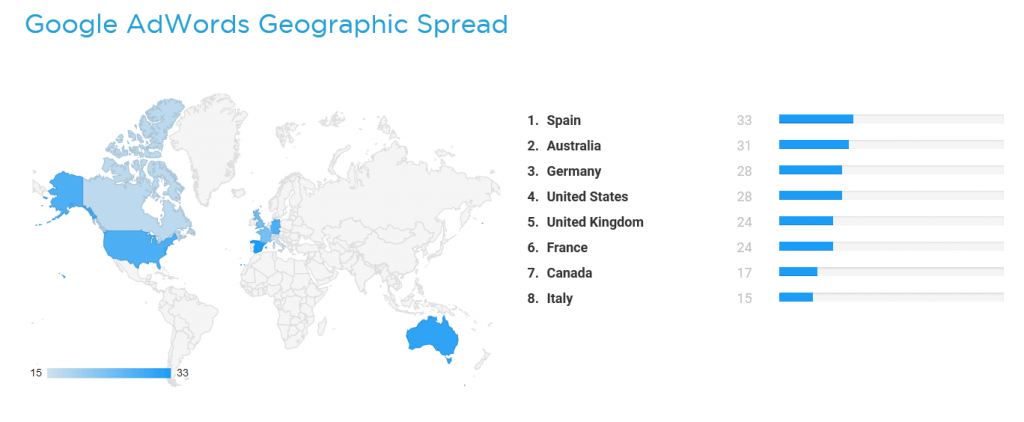 Algopix is a tremendously useful and convenient tool for doing your Amazon market research. You could've spent hours of your own time collecting all this vital data, but the online tool did it all within seconds. Algopix is also affordable and covers several different marketplaces, unlike other market research tools, such as Jungle Scout.
Please login or Register to submit your answer