Leverage Google Ads Analysis with Algopix
Based on the product you research on Algopix, the Google Ads Analysis tool provides in-depth information on the suggested search phrase for this specific product, the corresponding average number of monthly searches, the average CPC (cost-per-click), the bidding competition level and the estimated CPA (cost-per-acquisition).
Moreover, Algopix shows insights into the historical evolution of search phrase popularity as well as it's current worldwide geographical spread.
This information gives extensive insights into a product's online popularity and illustrates the search behavior of Google Users that represent potential customers of yours, supporting merchants in optimizing their product research outcomes. Besides, the Algopix Google Ads Analysis is an excellent reference for online sellers to assess, whether for them, leveraging Google Ads is a viable promotional strategy they should follow.
Algopix simplifies accessing these insights and supports Google Ads for Amazon products and eBay products.
Let's take a look at why online sellers should consider taking advantage of promoting their product listing with Google Ads. It'll prove beneficial leveraging Google Ads for Amazon businesses since it's an effective way to boost external traffic to your product listings. This strategy will provide a substantial advantage over your competing sellers. Equally, we recommend utilizing Google Ads for eBay businesses for driving traffic to your online store coming from outside the marketplace.
To benefit from the Algopix Google Ads Analysis, firstly make sure you have ticked the "Include Google Ads Analysis" box in the preferences section when performing your Single Product Analysis with Algopix. Likewise, when running the Bulk Product Research, the Google Ads Analysis is displayed in your report, according to single SKUs.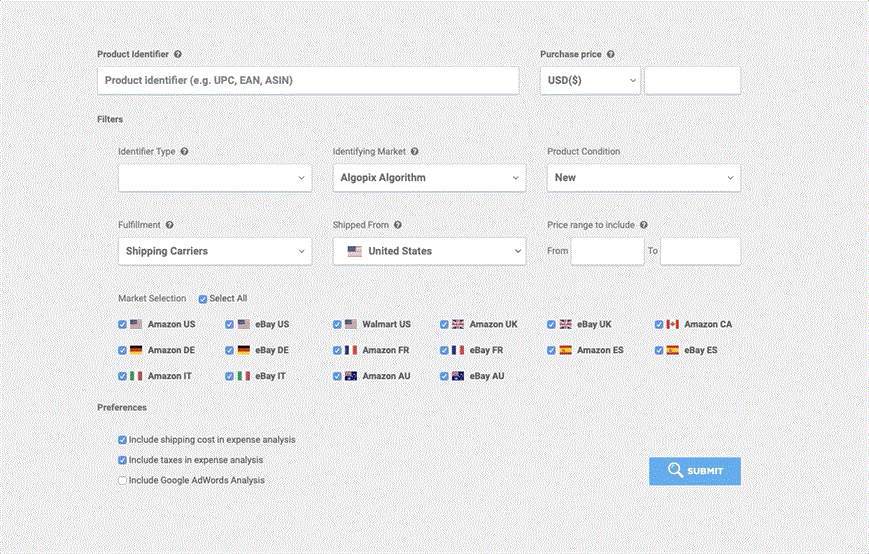 Here's the Algopix Google Ads Analysis you will see according to your product research:
Google Ads Analysis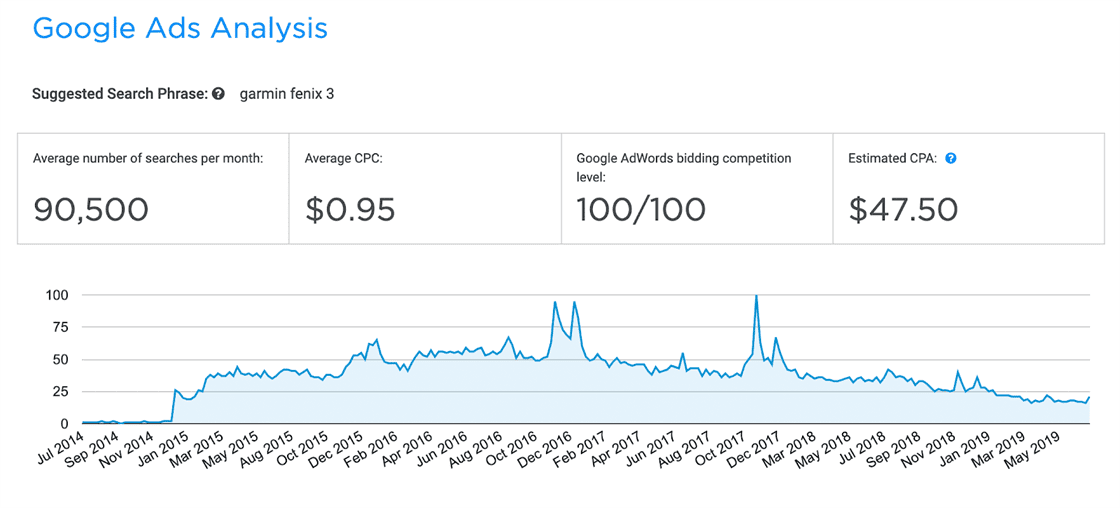 The suggested search phrase displayed for this particular product is the corresponding term that is most searched for on Google by users that were looking to buying the product you researched on Algopix. The suggested keyword helps you to understand how your customers – or potential customers – are searching on Google for products that you or your competitors are offering and hence gives you an idea of how you can improve the phrasing of your listing titles to reach a higher view count of your products and your store.
The metric corresponding to average monthly searches represents the number of times – on average, over 12 months – people have searched using this specific keyword and its close variants on Google. This figure gives you a first insight into the online popularity of the product you're researching.
Next, you see the average Cost-Per-Click (CPC), based on the suggested search phrase from Google that arises from your product research. The CPC reflects the average costs of a click by a user on your ad, associated with the suggested Google keyword. CPC is calculated by dividing the total cost of clicks by the total number of clicks.
The Google Ads bidding competition level gives you an idea of the extent to which you'd have to compete with other marketers for your ad to be clicked on, according to the particular Google keyword – the lower the ratio, the less competition.
The estimated Cost-Per-Acquisition (CPA) represents the average amount you're charged for a conversion resulting from your ad, based on the particular suggested search phrase. CPA is calculated by multiplying the Cost-Per-Click (CPC) with the default conversion rate according to eCommerce standards of 2%.
Google Ads Geographic Spread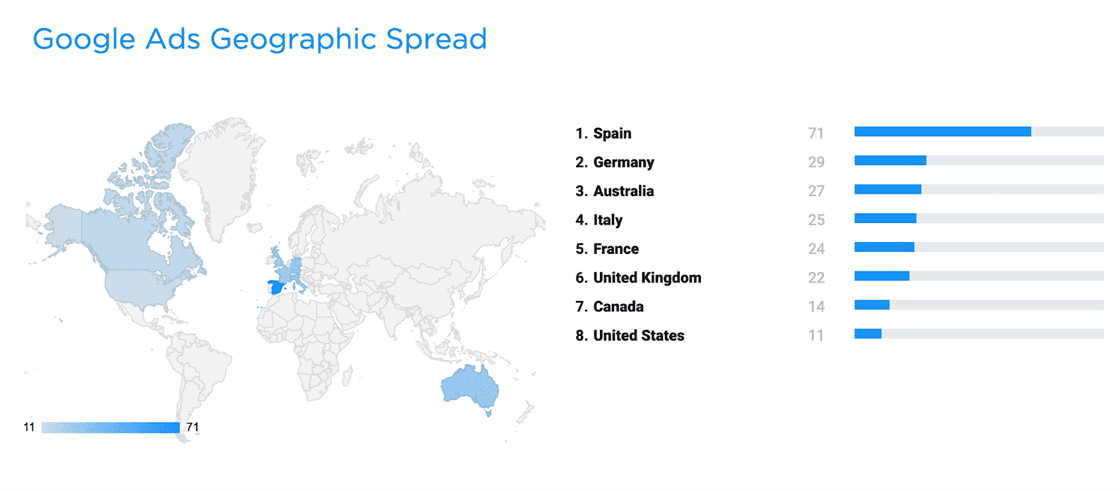 This graphical representation of worldwide search phrase popularity informs where you should target your ads to optimize their reach – and ultimately gives insights into where your customers or prospects are located.
Our Customers Love Us
---
Related e-Commerce Seller Tools