Improve Your Customer Experience with Algopix Catalog Management
In a brick-and-mortar marketplace, potential customers can hold products they are thinking of purchasing and examine them thoroughly using touch.
In the digital marketplace, however, touch does not work: Instead, customers must make their purchasing decisions solely based on what they can see and read.
Providing this comprehensive online product information, like images and descriptions, is the essential role of a digital product catalog.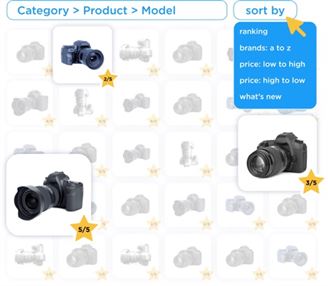 An optimized, high-quality catalog is the foundation of a successful eCommerce marketplace.
By presenting your products in an information-rich, accurate and organized manner, you can greatly improve your user experience, which is key to converting potential customers into loyal shoppers. In addition, your unique product selection is what sets you apart from your competitors and ultimately shapes your brand. Having a robust product catalog can highlight the best of your online offerings and help you build a trusted brand identity.
But building a product catalog can be complicated and time-consuming. Your offerings may be sold on many different channels and details can change frequently. If you are using manual processes to keep track of your products, the work never ends.
So how can you quickly and easily create an accurate product catalog?
With Algopix, you can rapidly build and sort your unique catalog, product by product.
When you enter a category, Algopix's Catalog Research API rapidly generates a list of products that includes important data such as title, identifiers, rating and number of reviews.
Once your catalog is complete, you can easily list products on your eCommerce marketplace. Your products are also automatically indexed to Google's search engine, resulting in added traffic and sales for your marketplace.
Algopix makes it easy for you to list your products and attract web traffic to your eCommerce marketplace. You can:
Quickly create and add products to your catalog with just a few clicks

Gather essential product data like title, identifiers, rating and reviews count

Quickly list your products on your marketplace

Improve your user experience to encourage them to convert

Boost your sales by providing comprehensive, easy to find data