In October 2015, Amazon made the business-savvy decision to launch their Amazon merch program. Merch By Amazon is a simple T-shirt printing and selling service that allows users to create and list their own designs on Amazon.com. The process is quick and easy, and anyone with a desire to start selling merch can do so with zero upfront investment.
Since its launch, Merch By Amazon has become an increasingly popular way for people to make money online. Designers with no previous experience in T-shirt design or sales can find success by creating eye-catching designs and listing them on the platform. And because Amazon takes care of printing and shipping the shirts, all you have to do is sit back and wait for the sales to come in!
If you're interested in becoming an Amazon merch seller, this guide will show you everything you need to know in order to get started. We'll cover the basics of how Merch by Amazon works, what kinds of designs sell well, and some tips and tricks for getting your listings seen by potential customers.
By the end of this guide, you'll be ready to start selling your own merch on Amazon. So, let's dive right in!
What Is Merch by Amazon, And How Does It Work?
T-shirt selling isn't a new concept. From band and TV show merch to political statements and everything in between, people love to buy and wear T-shirts that represent their interests. But in the past, selling T-shirts required a significant investment of time and money.
To sell a T-shirt on Amazon in the past, for instance, you needed to:
Find a stock T-shirt retailer or wholesaler

Create your design

Print your design on the shirts

Package and ship the shirts to customers who ordered them
As you can see, there were a lot of steps involved in the T-shirt selling process, and each step required some level of expertise. This made it difficult for people with no prior experience in merchandising or T-shirt design to get started selling their own designs.
Merch by Amazon (also known as Merch On Demand) simplifies the process by taking care of the printing and shipping for you. All you need to do is upload your design to Amazon, and they'll handle the rest. When a customer orders one of your shirts, Amazon will print it and ship it directly to them. Amazing, right?
How To Sell On Merch by Amazon
Now that you know a little bit about how Merch by Amazon works, let's talk about how you can get started selling your own designs. Keep in mind that there is no upfront cost involved, so if you're interested in selling shirts but don't want to gamble on investing in inventory, Merch by Amazon is a great option.
Step 1: Create Your Account
This is a fairly basic step; navigate to the Amazon account registration page, input your details, and complete the process. If you already have an Amazon account, that's great – no need to make a new one for your Merch by Amazon business.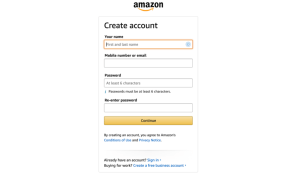 Step 2: Request To Sign-Up
While anyone can technically sell T-shirts through the Merch by Amazon service, there is often a waitlist to get started. This is because Amazon wants to ensure that their service is only being used by people who are serious about T-shirt design, and they want to avoid having low-quality designs cluttering up the marketplace.
To get on the waitlist, simply visit the Merch by Amazon sign-up page and use your account details to begin the process. You will be taken to a registration page where you'll need a few key pieces of information (see screenshots below).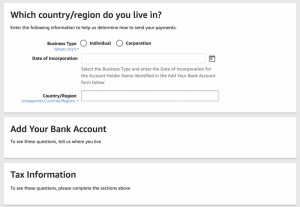 Step 3: Wait for Approval
Depending on how many people are ahead of you on the waitlist, it can take a few weeks to hear back from Amazon about whether or not your request has been approved. The time varies; for some people, it takes days, while for others, it can take months.
Make it easy for Amazon to invite you by providing accurate information and demonstrating a genuine interest in the program.
Step 4: Create Your Designs
You've been approved – awesome! Now it's time to start creating your shirt designs.
There are a few things to keep in mind when you're designing for Merch by Amazon:
Your design must be original – you can't upload someone else's work, or use licensed properties without permission.

The design should be high resolution. If the images are stretched or pixelated, they will not look good on a shirt.

For best results, try to fill a niche or cater to a specific audience. This could be a design for dog lovers or a shirt that celebrates a particular artist.

Your design should be on a transparent background.

The file type should be PNG or JPEG.
Design programs like Adobe Photoshop or Illustrator are great for creating high-quality images that meet the requirements listed above. Be sure to refer to Amazon's best practices to ensure your work will be accepted.
Design Limitations To Be Aware Of
When designing your shirts, keep in mind that Amazon wants to keep its platform as user-friendly as possible – so if your shirts feature any 'offensive or controversial content' they will likely be rejected. This includes:
"Content that promotes, incites or glorifies hatred, violence, racial, sexual or religious intolerance or promotes organizations with such views.

Content that graphically portrays violence or victims of violence.

Content depicting children or characters resembling children in a sexually suggestive manner.

Youth-sized products that contain adult content, profanity, and/or sexual references.

Content related to human tragedies and natural disasters.

Content that is misleading or deceptive with the risk to cause harm.

Content using profanity to attack a group or individual.

Content that promotes illegal activity.

Sexually obscene content.

Inflammatory content."
(As per Amazon's Content Policies)
If you can design shirts that stay within these guidelines, you should be in good shape – but keep in mind that there is always a risk of your design being rejected, so it's best to have a few backup designs ready to go.
Step 5: Upload Your Design
Once you have your design ready to go, it's time to upload it to Merch by Amazon.
To do this, log in to your Merch by Amazon account and navigate to the dashboard. There you'll be able to add your designs to the T-shirt templates that are available.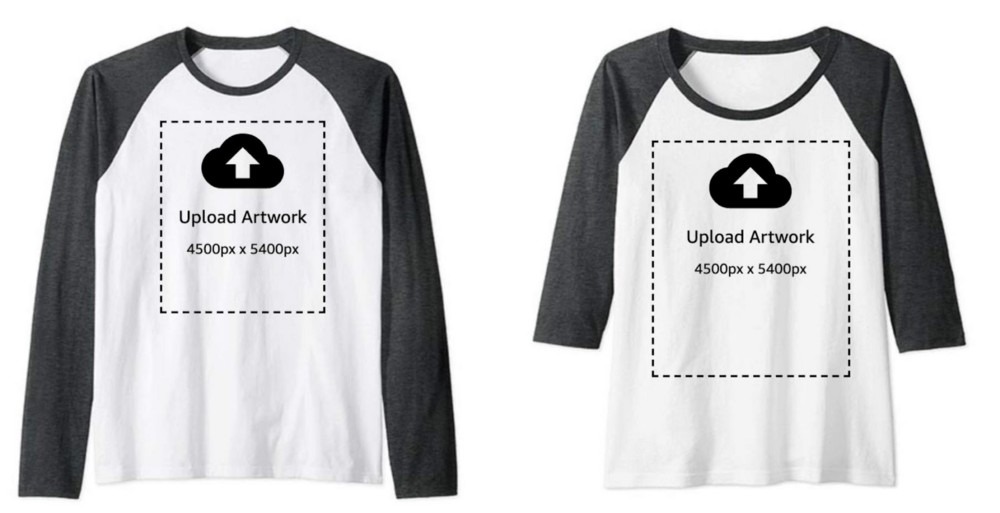 Step 6: Set Your Details and Publish Your Listings
Finally, you need to set some basic details for your listing. This includes:
Your product title.

You're selling a T-shirt, so that should be in the title – but what makes your shirt unique? Spend some time researching keywords and similar listings to find the best way to describe your design.

Your product description.

This is where you can really sell your shirt! Write a few sentences about why someone would want to buy it and include any relevant keywords.

Bullet points.

Amazon allows you to write some brief bullet points that will show up on your listing. These are a great way to highlight the features of your shirt or to call out any important details.
Market research is going to be your best friend as you fill out these details. Look at what other people are doing, and try to find ways to make your listing stand out. Better yet, use our Amazon product research tools here at Algopix to find the perfect keywords and phrases to use in your listing.
After you've set all the details for your listing, you're ready to publish!
What About Pricing?
Since Amazon takes care of the shipping, T-shirt sourcing, printing supplies, and customer service, you don't have to worry about any of those costs. For that reason, Amazon standardizes the pricing for all Merch by Amazon listings; the prices only differ depending on the product type (short sleeve vs long sleeve, etc.)
This is great from a convenience perspective; if you want to be making more than the standard royalties, however, it's best to source your own supplies and sell via your standard Amazon merchant store. Keep in mind that this will mean more work on your part, as you'll be responsible for everything from customer service to shipping.
List T-Shirts That Sell with Algopix
Here at Algopix, we have one mission: to make big data accessible and easy to use for eCommerce businesses of all sizes. We believe that data should be used to inform your Merch by Amazon strategy, which is why we've built some of the most comprehensive product analysis tools on the market.
Algopix analyzes millions of data points to give you actionable insights into each and every potential listing. You can analyze a single product or multiple products, or use our research tools to look for product keywords, trends, and more.
To get started with Algopix, sign up for a free account today.