eBay's new data structure makes it easier to shop, but harder to compete.
Here's how to beat the competition
The eBay marketplace is a battlefield of millions of products, sellers, and listings. eBay had 25 million sellers in 2015 and has 1 billion live listings. However, eBay is making moves to make those numbers less overwhelming for shoppers.
eBay's new data structure initiative: Group Similar Listings

eBay used to be a chaotic free-for-all, but today they've started to Group Similar Listings so that sellers with the same item are all condensed into one buy box style listing.
That's great news for buyers, since eBay's algorithm has done much of the thinking already. Instead of having to sift through thousands of potential items, they only see the best option (as determined by eBay) for each.
However, this new data initiative has made it even harder for sellers to compete. Since all of the sellers with similar items are grouped together, buyers don't even see some of the options behind the first listing.
Here's what eBay's search results for "coffee maker" looks like normally: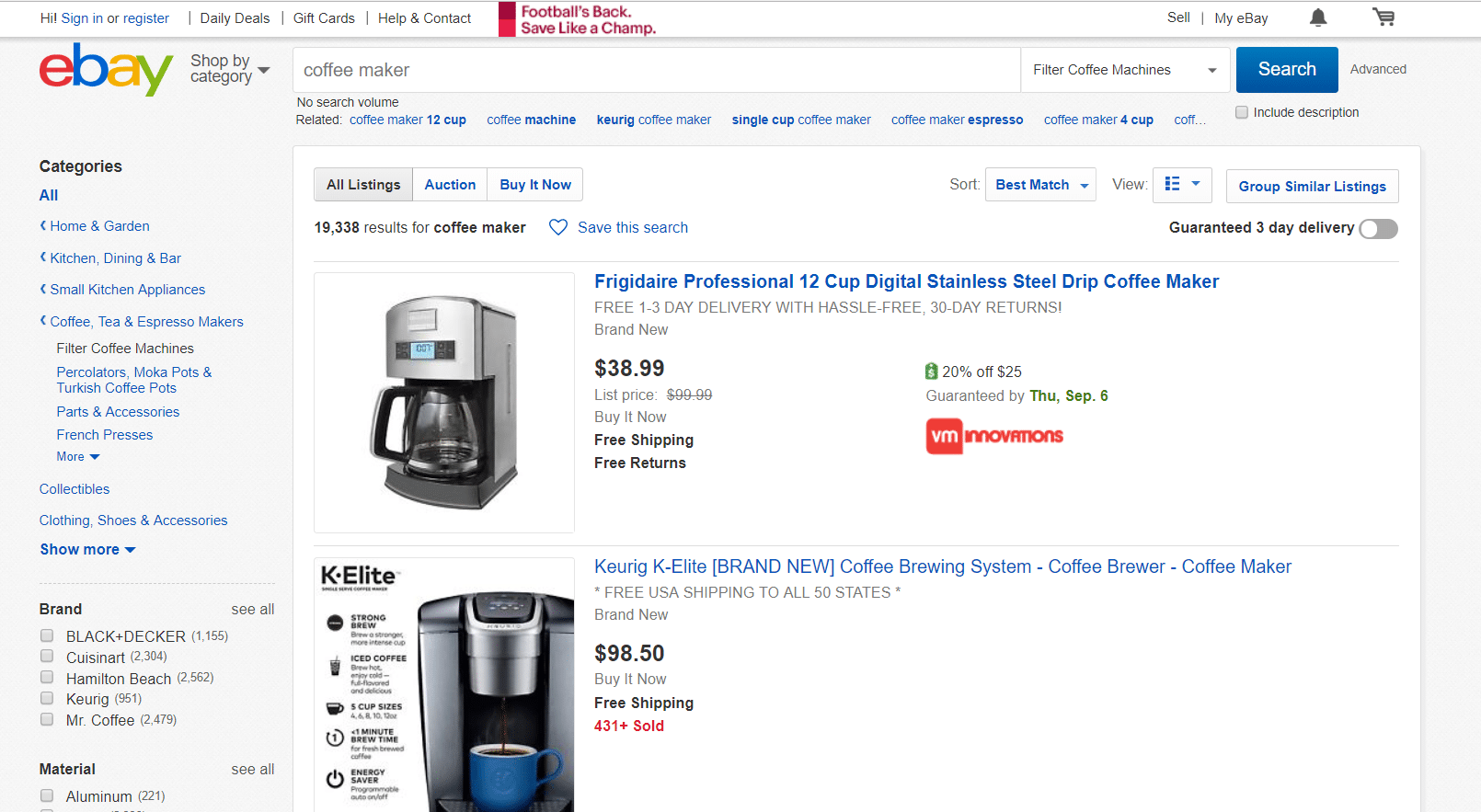 When you Group Similar Listings, the 19,338 results shrinks down to 4,726.
That's 14,612 listings that are still there, but now hidden behind a competitor's listing.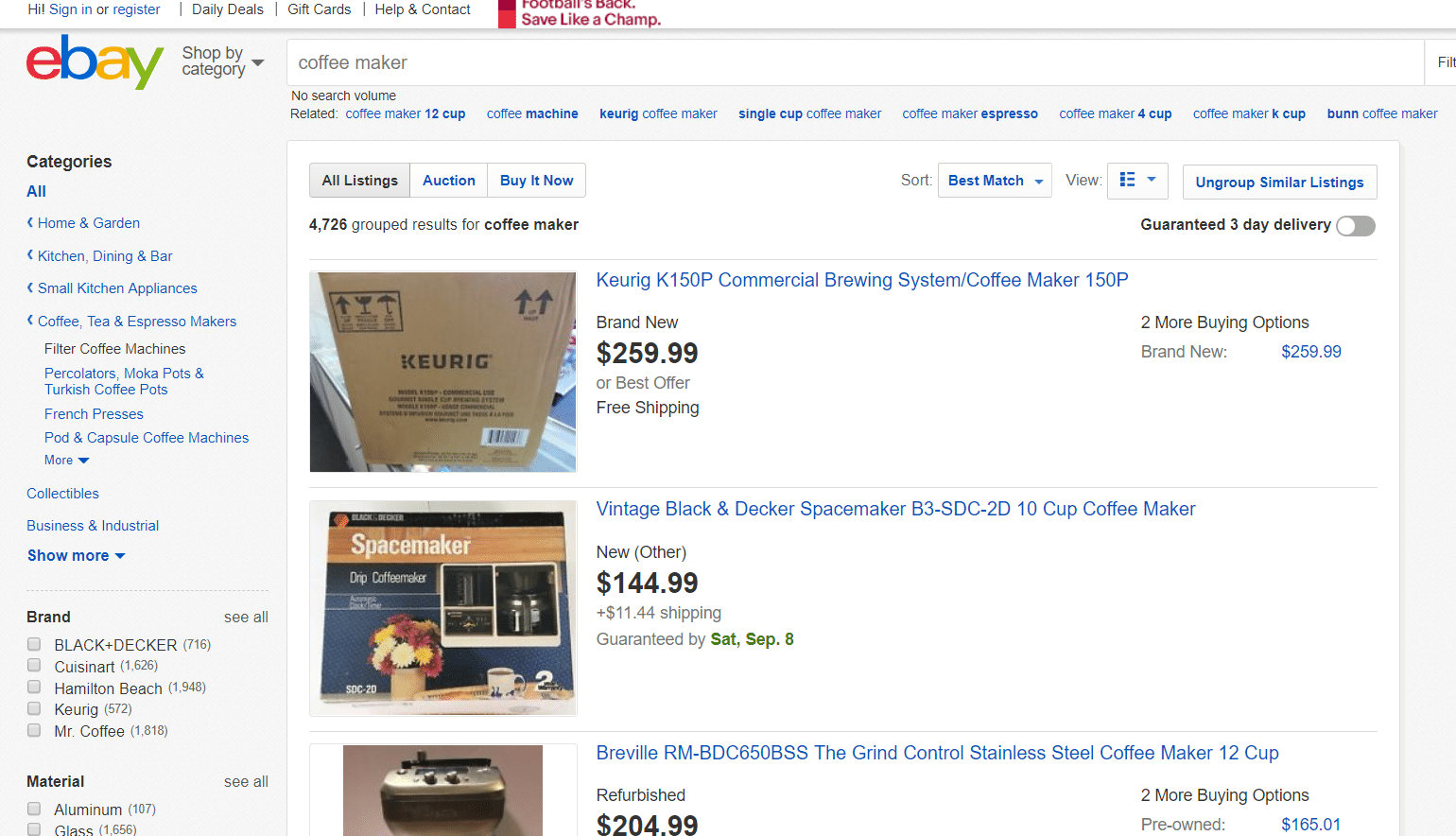 In the listing below, you see 58 more buying options. That means there are 59 sellers competing for sales of the Cuisinart coffeemaker, and only one gets the coveted top spot. The rest get hidden.

As you can see, with Group Similar Listings, instead of your listing having it's own real estate in the search results, one ding against your item can throw you into the abyss.
But there's also something interesting that happens when you examine the search results.

In our example above, the $99.95 price is actually more expensive than the other brand new alternatives (which start at $76.93). So, how did they get the buy box?
The answer: eBay Guaranteed Delivery.
What is eBay Guaranteed Delivery?

eBay Guaranteed Delivery (eGD) is eBay's answer to Amazon Prime. This program ensures items get to the customer within 3 days, with assurances that protect buyers. For example, if you purchase an item on eBay Guaranteed Delivery and it doesn't get to you by the guaranteed delivery date, you're entitled to a full refund and free return shipping.

Shoppers can filter for 3-day delivery right from the product search results page, by toggling the "Guaranteed 3 day delivery" switch. If an item is needed urgently, fast shipping is vital and eBay Guaranteed Delivery becomes an excellent way to distinguish your listing.
There are two ways sellers can get eBay's fast shipping tags on their listings: Handling time or door-to-door.
In the handling time option, eBay determines and guarantees the delivery date. The seller must ensure they prepare the items to be shipped within eBay's required time, usually within one day or less of order placement. However, sellers using this option are usually limited to a single warehouse, and have to ship using eBay's rates. That means they won't be able to reach everywhere in the USA within three days.
In the door-to-door option, sellers take responsibility for the entire shipping process. If a Guaranteed Delivery order doesn't make it on time, buyers are able to keep the product and get a refund on their shipping, or return the product with a full refund.
Although the handling time option seems simpler, it also means your listings won't be enabled on eGD for many buyers, since it'll be based on where your items are at (vs nationwide). For maximum reach and optimum performance, we recommend going for the door-to-door option and partnering with an eligible fulfillment service like Deliverr.
For more information, we've put together an all-in-one guide to getting on eBay Guaranteed Delivery.
Now, back to our analysis of coffee makers on eBay and how the new Group Similar Listings feature affects competition.
How to compete with fast shipping
The seller who was offering the coffeemaker at $76.93 didn't get the prime spot in the search results, because their listing was missing something very important to eBay and eCommerce shoppers; fast shipping.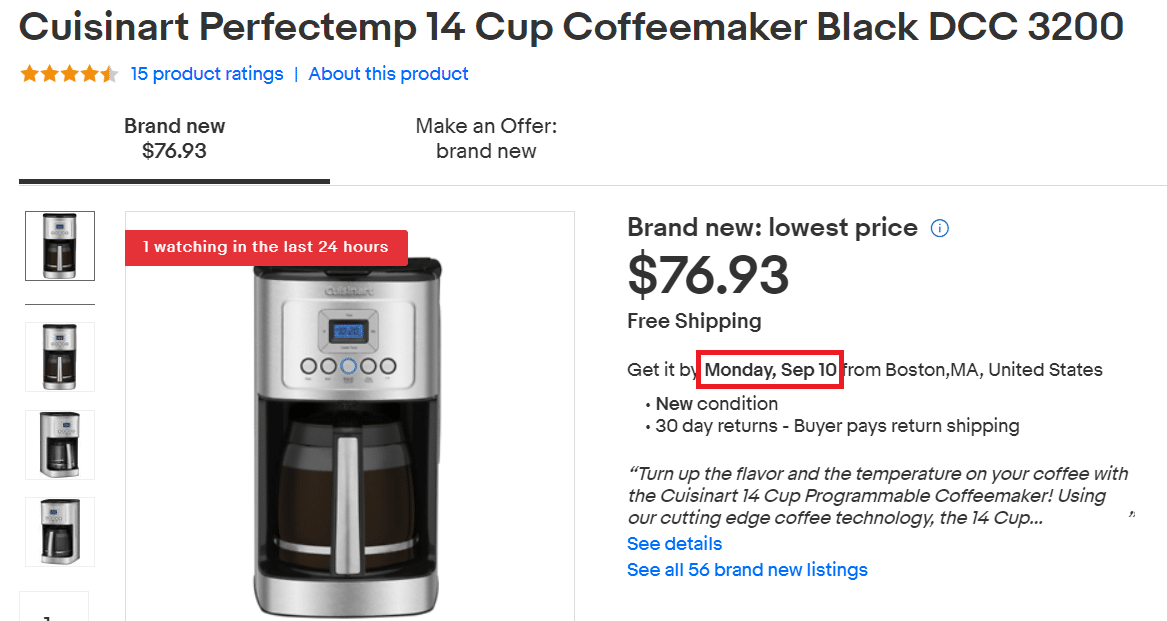 The more expensive listing that won the coveted spot on the search results provides guaranteed delivery by September 7. The cheaper option doesn't have eBay Guaranteed Delivery, and their estimated delivery date would be September 10, 3 days later.
Those two factors were enough to justify a price difference of $23.02, or almost 30% of the overall price of the cheaper option.
This is huge news, because it means that eBay has determined that shoppers are willing to pay that much more for fast and reliable shipping. This now becomes the key to beating your competition in a marketplace where it's getting harder and harder to stand out.
About the author
This is a guest post from Michael Krakaris of Deliverr. Deliverr provides fast and affordable fulfillment for your eBay, Walmart and Shopify stores, helping to boost sales through programs like Walmart Free 2-Day Shipping and eBay Guaranteed Delivery.
Deliverr's FBA-like multi-channel fulfillment comes with clear pricing, easy on-boarding and a hassle free experience so you can focus on growing your eCommerce business.