Amazon is a flourishing marketplace for buyers and sellers alike, with third-party sales growing at 52% per year. Many Amazon merchants use price trackers and Amazon price history tools to stay competitive in the marketplace. 
By monitoring their competition's prices and making changes accordingly, sellers optimize their listings to bring in more money – and with this list of the top best Amazon price trackers in 2022, you can too!
Of all repricing tools designed for the Amazon marketplace, Zentail is the most forward-thinking in its technology applications. It's an app that tracks Amazon prices and makes changes to your listings according to the rules you set.
Zentail uses its own automation technology called 'SMART Types' to make cross-platform listing simpler than ever before: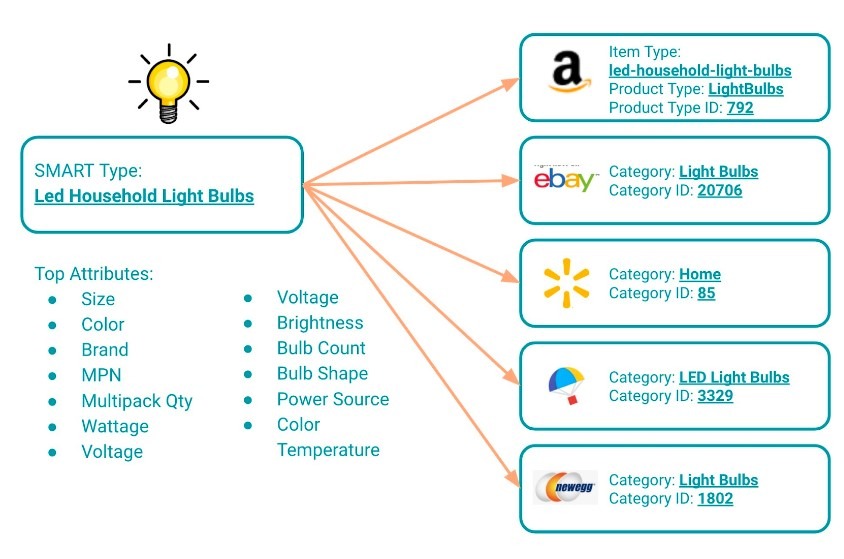 Source: https://help.zentail.com/en/articles/1061473-smart-types-what-they-are-and-how-to-use-them
The seller only has to specify which platforms they want to list their product on, and Zentail will recommend the best the most valuable listing attributes for that product.
Features
Perhaps the best advantage of Zentail is its wide array of valuable features. You're not simply getting a repricing tool with Zentail – you're getting a comprehensive software solution for optimized listing across multiple platforms. 
Zentail has a Multichannel Overview feature where you can manage all of your listings across multiple channels with ease. Powerful product data features require you to upload your data only once; after that, Zentail can automatically arrange and optimize the data according to which platforms you want to use.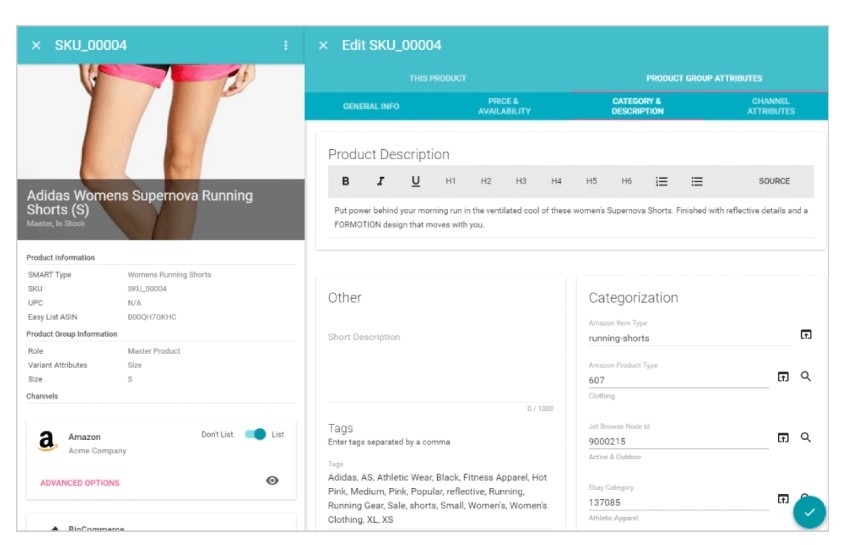 Source: https://www.zentail.com
In terms of repricing capabilities, Zentail is your one-stop shop. The platform offers its very own repricing software, which relies on cutting-edge automation. Here's how it works:
You (the seller) can set your minimum and maximum prices for each product listed within the Zentail platform. 

Zentail constantly monitors the competition on each platform, checking for changes in prices at regular intervals. 

When a competitor's price changes, Zentail automatically adjusts your price to be the most competitive – without ever going below your minimum or above your maximum.
Say goodbye to the hours you spend scouring the internet for price changes; with Zentail, all of that is done for you automatically.
Supported Platforms 
Zentail stands out for the vast array of platforms it supports. Users can list on just about any marketplace, including:
Amazon

Walmart Marketplace

eBay

Google Shopping

Shopify
Not only that, but Zentail partners with platforms like Amazon FBA and FedEx, making it easier than ever to get your products to market. Zentail is also a partner of ours here at Algopix; with our product market research integration, you can get a well-rounded picture of your product's potential before you list.
Pricing 
Zentail offers a few different pricing plans to choose from depending on your needs and budget: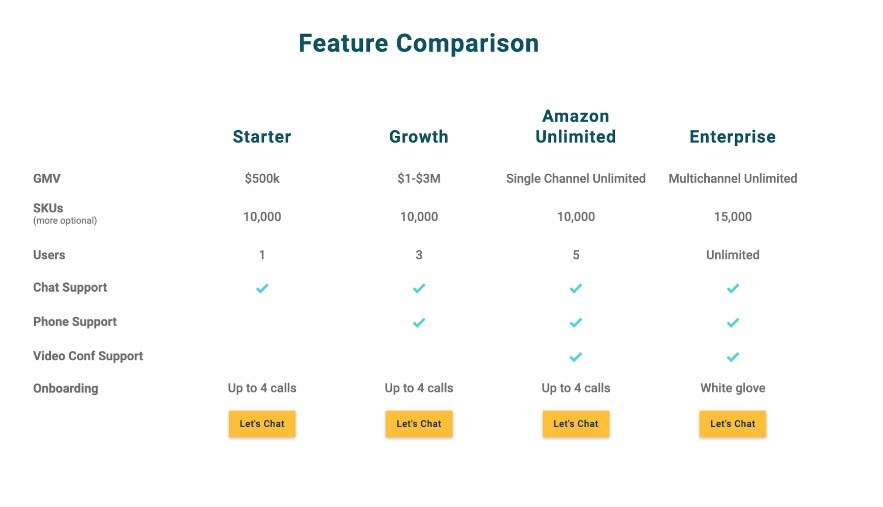 Source: https://www.zentail.com/pricing
Most plans require a consultation before they give you a quote. Considering that the Starter plan is $499 per month, this platform is pricier than some competitors; however, it gives you the full suite of multichannel selling tools. There's no need to pay for any other software once you're on Zentail.
Listed as the #1 Amazon repricing tool, RepricerExpress hosts an entire suite of tools specifically designed to optimize your prices. You can use automated Templates to set rules like 'beat all competitors by 15%' or 'maintain a 25% margin', or get more granular with pricing rules if you want to.
But RepricerExpress isn't just about repricing – it's also about giving you the data you need to make informed decisions. The software provides valuable insights into your sales, margins, and other key performance indicators to see how price changes affect your business.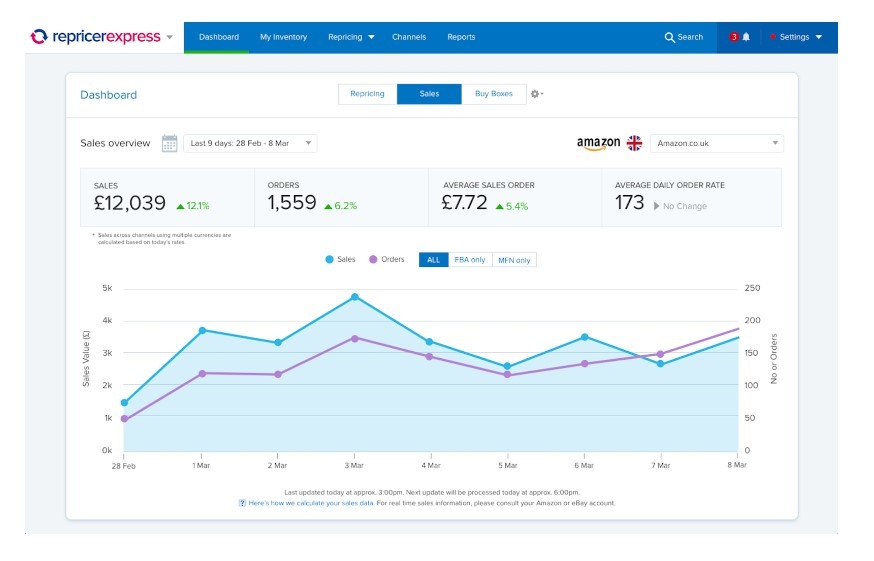 Source: https://www.repricerexpress.com
Features
RepricerExpress is dedicated to price optimization, which means all of the company's efforts go toward making sure its software is the best at what it does. While this implies the need to invest in other platforms for inventory management, shipping, and CRM, the silver lining is that RepricerExpress doesn't skimp on features or compromise quality in order to offer a more comprehensive solution. 
Here are some of the features that make this software great:
Buy Box & Top 20:

At the click of your mouse, quickly see which listings are Buy Box winners and where your products rank in the Amazon Best Sellers list.

Tracking Amazon Prices:

Get an idea of how many products are changing their prices; you can view data for the last hour, 24 hours, or even seven days. 

Min and Max Prices:

Set the minimum and maximum prices you want to charge for each product, and RepricerExpress will make sure your prices stay within those bounds whilst still being competitive.

Product competition view:

In an easy-to-read layout, view where your prices sit in comparison to the best-performing sellers for each ASIN.

Repricing rules:

You can set general repricing rules that apply to all of your products, or get granular and set different rules for different products, SKUs, or groups.

Powerful filters:

RepricerExpress allows you to filter your competitor search results right down to the condition of their items and the number of reviews they've received.
This is an incomplete list; however, these are the most unique and practical features that RepricerExpress offers. 
Supported Platforms
RepricerExpress is an Amazon price monitoring software tool, meaning it has been designed specifically for use on Amazon.com. You can tell that the platform designers are experts in their field, and they have put all of their efforts into making one of the best Amazon repricers on the market. 
However, users can use the tool on eBay, Shopify, Walmart, BigCommerce, WooCommerce, and others; access to multichannel repricing will depend on your payment tier. 
At Algopix, we partner with RepricerExpress to help Amazon sellers make the most of their listings. Double down on your product research with our suite of comprehensive tools that pair perfectly with the RepricerExpress features. 
Pricing
RepricerExpress offers a 14-day free trial with no credit card required. After that, pricing is tiered based on the features offered: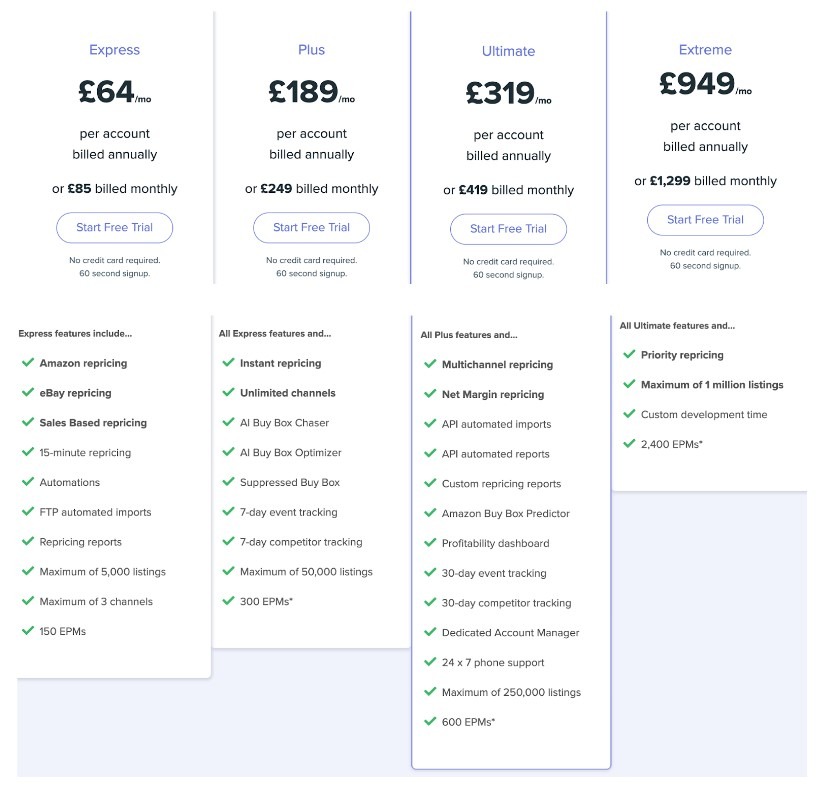 Source: https://www.repricerexpress.com/pricing/
Amazon sellers can also purchase the Amazon business add-on for £115/mo per account, which automatically handles your Amazon pricing and sets special rules based on quantities. 
Self-described as 'deceptively simple', StreetPricer is the #1 eBay repricer that also caters to Amazon sellers. The platform makes use of the latest and greatest in AI optimization. The StreetPricer team is so confident in their product that they even guarantee results – which is unheard of in this industry.
Features
StreetPricer for Amazon is built with the 2021/22 Amazon Selling Partner API platform for best results; the website claims to have 50x better performance than other repricing tools, and both branded and private sellers can make the most of StreetPricer's extensive features:
AI-driven logic:

StreetPricer is designed to win you more Buy Boxes than other repricing tools. It does so by mimicking your thought processes as a seller and pairing this information with dynamic price monitoring to produce unparalleled results. 

Buy Box Bidder:

Simply toggle this feature to the 'on' position, and StreetPricer does the rest for you, bidding for and winning Buy Boxes while you take care of other tasks. 

Profit Optimizer:

When toggled, this feature automatically reprices your BuyBox products in order to maximize profits whilst remaining competitive.

Related ASINs:

No direct competitors? No worries! StreetPricer lets private label sellers monitor and compete with similar ASINs via a simple, single-page pricing view. 
With one of the most user-friendly interfaces available, it's easy to switch from a different price tracker to StreetPricer. 
We've partnered with StreetPricer to help users gain an even greater depth of insight into the competition. Our research tools combined with their AI functionality is the recipe for an unparalleled repricing experience.
Supported Platforms
StreetPricer was originally designed for eBay users. It was developed back in 2003 when eBay first gained prevalence – so you can feel confident that the team has extensive experience in the eCommerce space. 
Since then, the features have been extended to include Amazon as well; there are now more features for Amazon users than eBay users since there are also more dynamics involved in pricing on Amazon than eBay (winning the Buy Boxes, etc.). 
Pricing 
As with most price trackers on this list, StreetPricer has a free 14-day trial so that you can try the platform and compare it to others before making a commitment. It's a card-free trial, so there's no risk of accidentally paying the fee. 
From there, you can choose between three main tiers: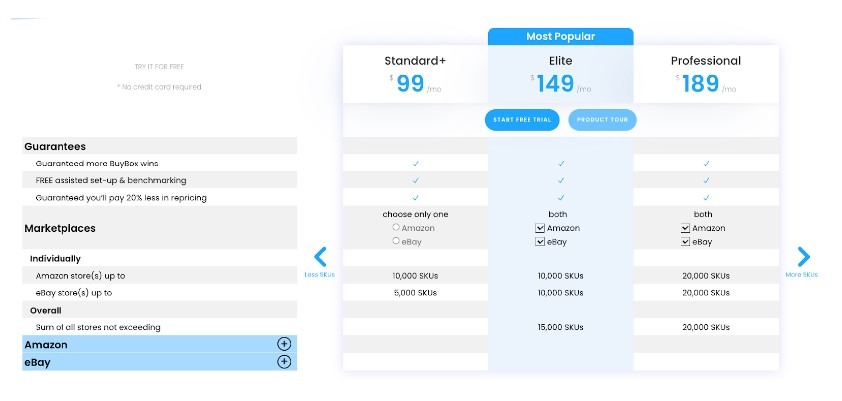 Source: https://streetpricer.com/pricing/
StreetPricer also offers a range of enterprise options for those larger Amazon sellers who need access to a higher volume of SKUs: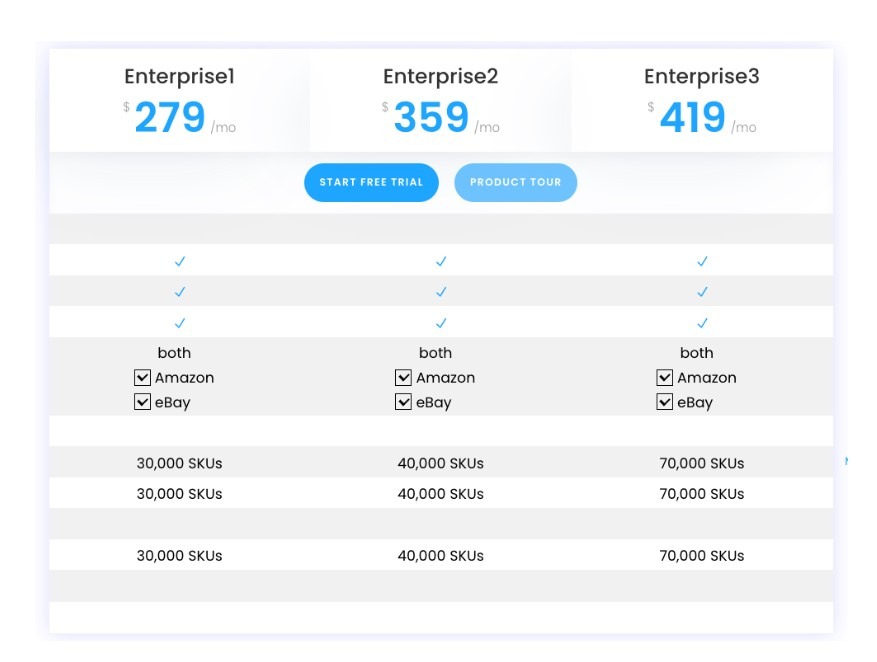 Source: https://streetpricer.com/pricing/
This pricing structure makes it easy to choose the level you need; the only real differentiator is how many SKUs you have. All other features are consistent from Elite up to Enterprise.
Are you a multi-channel eCommerce seller? Managing your channels can get overwhelming at times, which is where a channels manager like Solid Commerce can really save the day.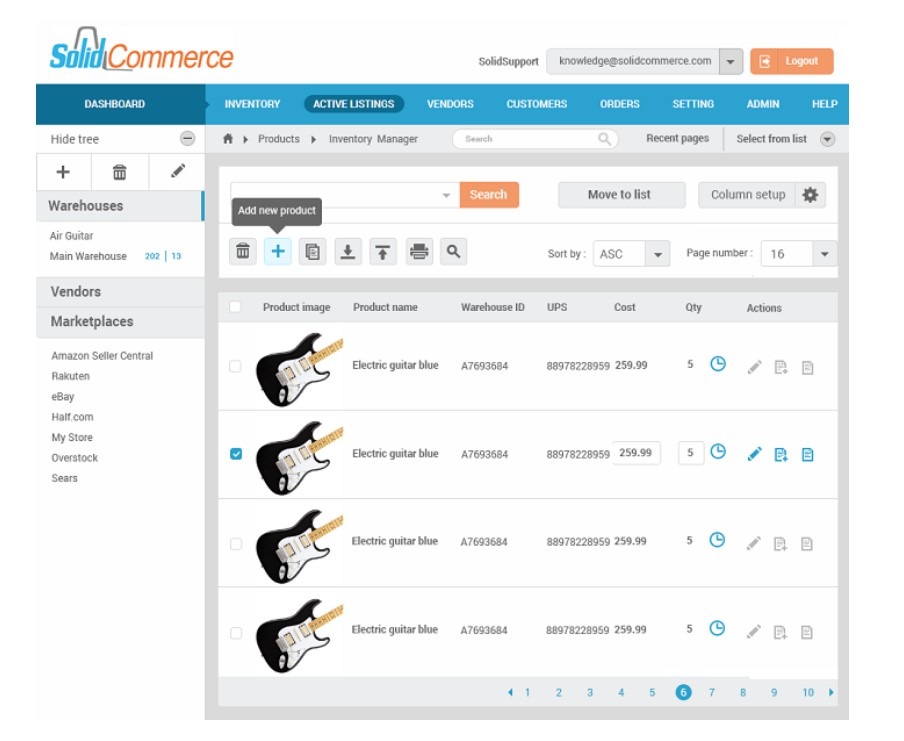 Source: https://www.solidcommerce.com/
Features
Solid Commerce handles everything from inventory management to consolidated order management and even extends to shipping labels; it's a one-stop solution for sellers who want an all-in-one seller dashboard. Better yet, it handles repricing and Buy Box optimization, too.
Listing management:

With this feature, you can bulk-list new products in a fraction of the usual time. It's super easy to revise live listings across all your channels from one easy dashboard.

Inventory management:

Don't let inventory become your full-time job. Solid Commerce allows you to sync your inventory levels and manage all of your channels in one place.

Order management:

Rather than jumping between marketplaces to handle orders, use this feature to sort, organize, and fulfill your orders from one central place. You can manage shipping from here, too.

Repricer:

Solid Commerce uses dynamic price tracking to help you set the best prices according to competing products. The options here are fully customizable; adjust for specific product conditions, seller rankings, times of day, and more.
With our Algopix integration, you can enhance these features even further with enriched market insights and product research!
Supported Platforms
Currently, Solid Commerce allows sellers to track their stores on Amazon, eBay, Walmart, Shopify, Etsy, BigCommerce, and most other major stores and carts. The platform also integrates with a number of shipping providers and carriers.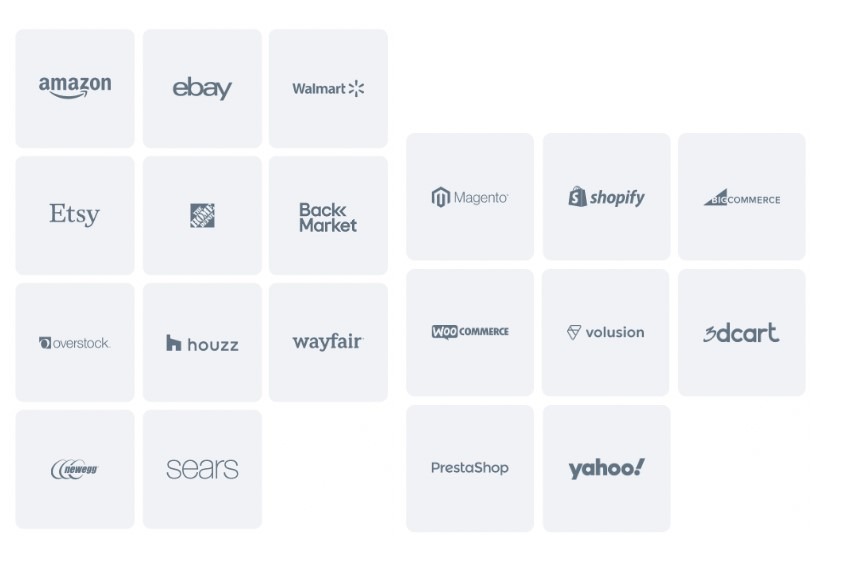 Source: https://www.solidcommerce.com/partners
Pricing
While some price trackers list their entire pricing schedule on their website, it is common practice to have a consultation-based pricing system. Solid Commerce requires interested users to book a demo and request a quote; however, you can expect to pay a base rate of around $400.
Dropshipping has become an incredibly popular side hustle in recent years. Not only is it a much simpler way to run an online store, but it can also be lucrative if managed properly – and DSM Tool was designed for exactly that purpose!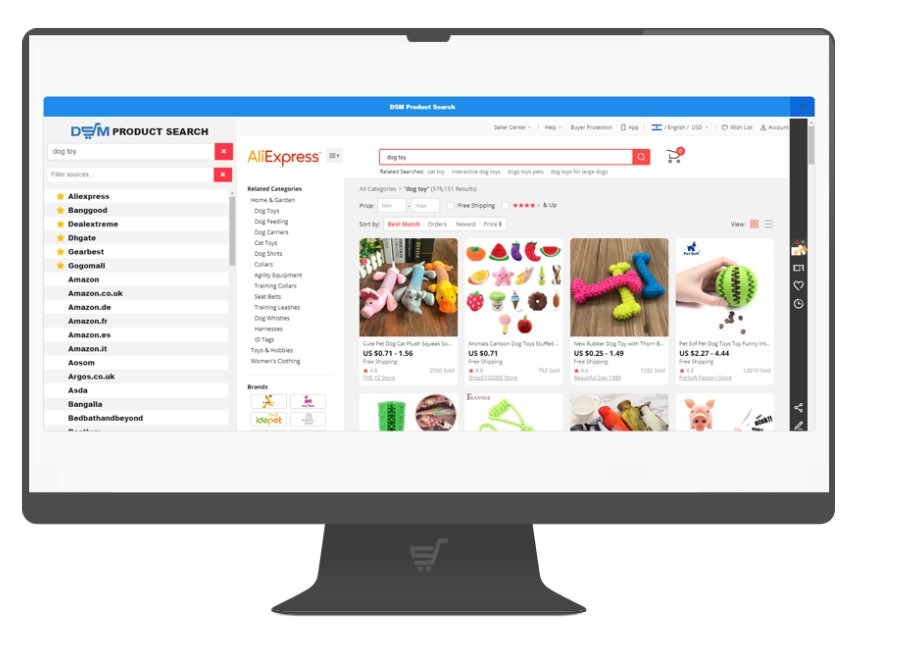 Source: https://www.dsmtool.com/
Features
For eBay, Shopify, and Facebook marketplace sellers (coming soon), DSM Tool offers an extensive end-to-end solution for dropshippers with SEO optimization, order optimization, product sourcing, and price and stock monitoring. 
It's important to note that DSM Tool doesn't currently integrate with Amazon as a marketplace. It does, however, list Amazon as one of its many dropshipping suppliers; sellers can still use the repricer will their Amazon-sourced products. Keep this in mind if you would prefer a fully-integrated repricing experience. 
In other words: you can use DSM Tool to price track Amazon products, but it's only helpful if you are then dropshipping those products via one of the supported marketplaces (eBay, Shopify, or Facebook).
Supported Platforms
As we mentioned, DSM Tool supports eBay, Shopify, or Facebook. The number of platforms you can source your dropshipping products from, however, is much greater:

Source: https://www.dsmtool.com/
When you source products from any of the supported websites, DSM Tool constantly monitors the prices from those websites and updates your listings on eBay and Shopify. It takes care of the heavy lifting so you can focus on finding your niche.
And, with our Algopix-DSM Tool partnership, you can supplement their services with in-depth product research that takes your dropshipping business to new heights. 
Pricing
DSM Tool has a fairly straightforward pricing scheme. From Basic to Enterprise, all features are included; the only difference between those upper three tiers is how many active listings you manage (600 for Basic up to 25000 for Enterprise), the number of accounts you can have, and the amount of support you'll receive.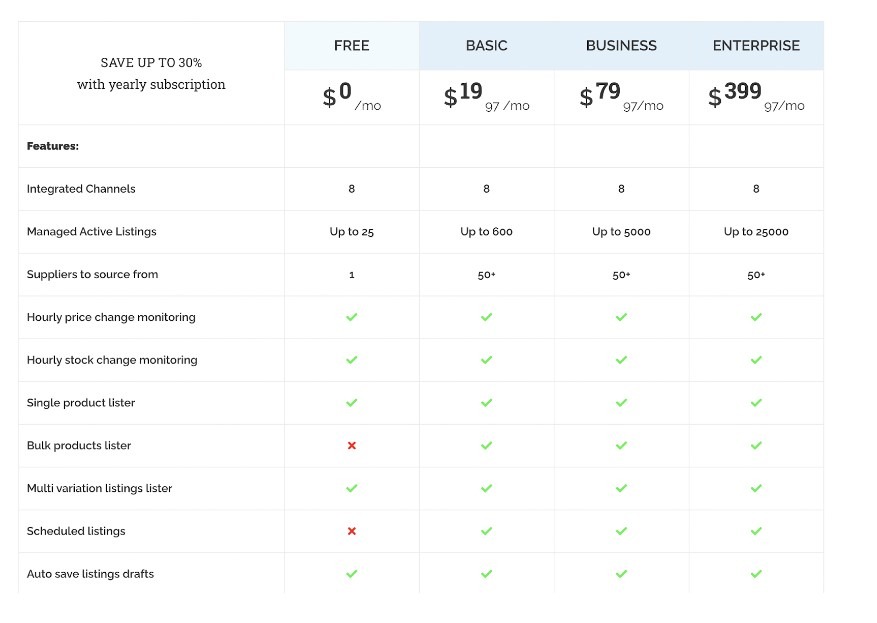 Source: https://www.dsmtool.com/pricing/
There is no free trial option for DSM Tool, but you can start with the Free plan and move forward with an upgrade if you decide the tool matches your needs as a dropshipper.
Conclusion
Amazon sellers know it's a highly saturated market for most product categories. In order to stay ahead of the competition, it's crucial to have a product and pricing strategy that is data-driven. The price trackers we've listed here are bound to take your pricing strategy to new heights.
Algopix provides you with all of the information you need about your products, market, and competitors so that you can make informed decisions and take your business to the next level. With our useful Zentail, RepricerExpress, StreetPricer, Solid Commerce, and DSM Tool partnerships, you can automate your repricing process and focus on other areas of your business.