Being a successful online seller comes with a lot of challenges. Finding a great product or opportunity on its own is rarely enough.
Many great ideas never pan out due to a lack of data, marketplace opportunity, or supplier availability. Other products turn into dead inventory because the numbers just didn't work out.
Product research may be the first step to validate an idea—but it means nothing if you can't find the right supplier to produce it.
That's why Algopix is excited to announce our latest integration with Alibaba.
Algopix users will now be able to analyze, research, and find Alibaba suppliers for products you want to sell on Amazon, Walmart, and eBay, all directly within Algopix.
We know sellers have been asking for a better approach to product research and sourcing, and we're confident this new integration will drastically improve these processes.
Product Sourcing: Adding That Missing Piece of the Puzzle
More than 70,000 users rely on Algopix every month to discover profitable new products to sell. That's more than 1 billion products analyzed, 17+ marketplaces tracked, and 23 million brands scanned.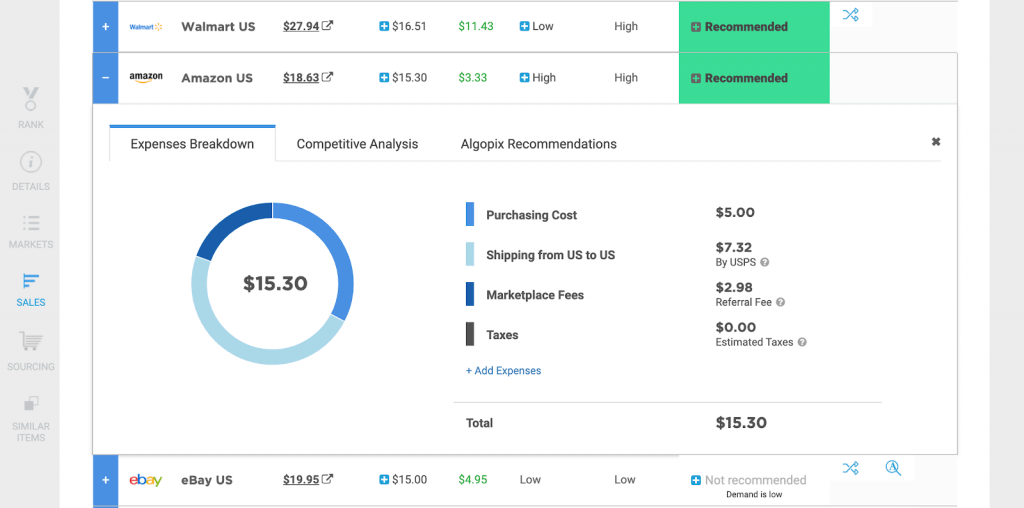 Algopix makes it easy for users to gain full visibility into a product's potential sellability, seller performance, estimated profit margins, marketplace fees, logistical expenses, and more.
It's also the platform sellers rely on to identify rising product categories, new niches, and the cross marketplace data you need to validate your next big idea.
This latest integration brings everything you need to identify, research, and source products, into one convenient location.
One Location for Product Research & Supplier Discovery
Alibaba is one of the most recognized and widely used marketplaces for discovering suppliers. We see this integration as the next step in providing an A-Z solution for product research and sourcing.
That means less time wasted browsing pages and pages of Google searches and Alibaba suppliers to find a manufacturer for the products you're interested in carrying.
Algopix will provide sourcing recommendations for suitable Alibaba suppliers directly within the platform. These recommendations will include:
Supplier availability
Product price range
Minimum order quantities
Key supplier business information
Total orders and sales over 6-months
Supplier rating
Badges for assessed and trade assured suppliers
We're giving sellers access to even more data, so you can be confident in the products you're actively researching to grow your business.
Discover New Opportunities Across Amazon, Walmart, & eBay
It's always been our mission to provide sellers with valuable insights across the largest ecommerce marketplaces. 
Sellers using Algopix have access to data-rich insights for products being sold on Amazon, Walmart, and eBay.
With our detailed product analysis, you can see actionable insights like:
Sales opportunities across channels
What marketplaces a product is being sold on
Current market price, expenses, and estimated profit
How much competition a product has
What level of demand exists
Whether a product is recommended
Estimated monthly unit sales and revenues per marketplace
Average Google Ads data for keywords related to your product
Data for any similar products
And now, with full Alibaba integration, sellers can quickly compare all of that marketplace data with product sourcing opportunities. This added level of detail gives sellers a full picture of a product's viability in the most popular marketplaces.
For sellers focused on sustainable, long-term growth—this provides full clarity into a product's potential trend, future pricing strategy, and other essential metrics that can make or break your success.
How Product Research and Sourcing Will Work on Algopix
Now onto the big question. How will this new hybrid version of product research and sourcing work on Algopix?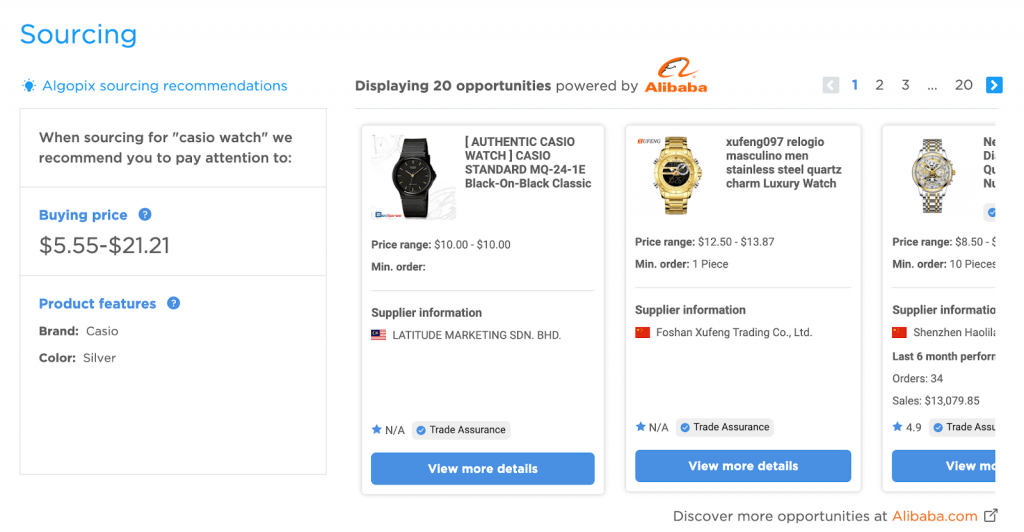 Here's a simple breakdown of what a typical search will look like:
Start researching products on Algopix to discover new opportunities. Whether you're looking for a new niche, to expand within a category, or something else—you can instantly see a product's estimated monthly sales, competition levels, expenses, and more.
Cross reference Alibaba recommendations to verify white-label opportunities. For every search you make, Algopix will provide relevant Alibaba recommendations based on a price range and the keywords you used.
Assess the quality of an Alibaba seller directly in Algopix. There's no need to leave Algopix at all. You can quickly check an Alibaba seller's price range, minimum order quantity, sales over 6-months, rating, and whether they offer "Trade Assurance." Each search will display up to 20 results.
Make a purchasing decision. If all the numbers check out and reputable suppliers are available, you can start the quoting process with your selected Alibaba merchant.
When it comes to choosing products, Algopix provides purchase price benchmarks that highlight whether a product is worth selling. Other platforms that offer similar features don't provide a recommended purchase price.
Keep in mind that the recommendations we provide are based on data and benchmarks provided by Alibaba that we organize according to our rationale. Because we do not control the source of this data, we cannot guarantee its accuracy.
Algopix: One Location for Product Research and Sourcing
Have an idea about sourcing a new product? Discover its potential with actionable data and get offers from suppliers—all from one simplified platform.
Join the tens of thousands of other online sellers that are using Algopix to make better decisions when it comes to product research and sourcing. Start your free trial today.